Here are some projects by people using Mozzi. If you have something you'd like to share, get in touch.
---
Mutant and Freaq generative synths from Meebleeps:
---
OscPocketM and OscPocketO ; A beatmaker and a synth/drum machine by Staffan Melin, who invites you to "edit, share and evolve"
---
TURBULENCE v.1.2 - wind sound installation by Jiri Suchanek.
---
LFS1 - a light field synthesis: Installation by Dieter Vandoren and Mariska de Groot.
---
Ben Nolan's art project for Kiwiburn (New Zealand's Burning Man festival).
---
Genetically Modified Oscillator: Graintable Synthesizer by Ross Fish.
---
MozMo: Arduino Mozzi synth in Eurorack hardware by Jean-Luc Deladrière.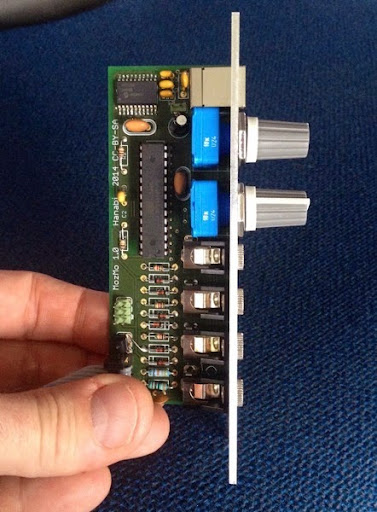 ---
Nuncha: music with a Wii nunchuck by Marco Galardini.
---
mobileBB shield for Mozzi, by The Breadboard Band
---
K'iin, a mini-synth by Taylan Cihan.
---
Wearable synthesizer group "ARDUINI" playing their original song "Noi siamo Robot".
---
Field Lines, an instrument designed by Charles Peck.
---
POWDER BOX: An Interactive Musical Device with Sensor Based Replaceable Interface by Yoshihito Nakanishi, at The University of Tokyo.
---
"B.O.M.B.-Beat Of Magic Box-", an interactive musical device for cooperative music performance by Yoshihito Nakanishi.
---
Arduinitar, by Andrew McPherson, exploring interface design with children at Queen Mary University.
---
Standuino π [pi] by Václav Peloušek. A "mysterious drone synth" that "can find your needs"…
---
[xor] synth by Václav Peloušek, the Standuino hand-made electronic music project.
---
A musical fruit fly experiment, a group art/science installation at the State Library of Queensland.
---
CheapSynth by Fakebit Polytechnic.
---
E-licktronic Arduino Mozzi synthesizer.
---
"Greenwash" by Tim Barrass, a sun-powered sound sculpture which sonifies fluctuations in solar energy (like a windchime, but solar).
---
"Audio Club Executive (ACE)" by Tim Barrass, for the high-powered fidgeter. Solar powered sample scrubber.